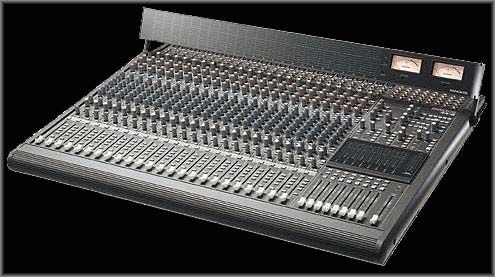 * C O N S O L E *  
Mackie 24 channel 8 bus Mixing Console  
*I N T E R F A C E S*                                                                                                                                                                                                     Focusrite Saffire PRO 40 8 channel interface, MOTU 828 Firewire
We LOVE these analogue to digital converters! So transparent. Just the best pre-amps. What goes in is what comes out! Crystal clear.
* R E C O R D E R S *  
Apple Power Mac G4 with Pro Tools 12.4, Tascam CD-RW750 Professional CD Recorder, Tascam DA-30 DAT Recorder, Teac & Onkyo cassette recorders. We make a safety copy of every project onto an external G Drive. 
* M I C R O P H O N E S *  
AKG C414 (1), AKG C1000s (4), AKG D112 (2), Sennheiser 421 (1), Beyer Ribbon M500N (1), Sure SM 57 (5), Sure SM 58 (1), Sure SM 58 beta (2), Crown PZM (1) 
* M O N I T O R S *  
Mackie HR824 High Resolution Studio Monitors, UltraPhonic Studio Monitors, TOA 280-ME Studio Monitors, Behringer Eurolive 212 speakers (2), Headphones by AKG, Sony, Yamaha, Sennheiser and Beyer. Behringer audio analyzer/equalizer
*G U I T A R S*                                                                                                                                                                                                              Martin D45 acoustic, Guild D50 acoustic, Gibson ES 347, Spector Bass, Epiphone Gibson bass, DAgostino hollowbody
*A M P L I F I E R S*                                                                                                                                                                                                          2020 Blues Junior Mark IV, 1972 Bassman 50, Behringer Ultrabass BX3000T, Ampeg BA-110, Fender Concert 50, Polytone Minibrute, Carvin BX microbass10.  3-12 inch cabinets, 1-15 inch cabinet. Don't you worry. Your guitar will sound better than you thought possible! Promise.
* K E Y B O A R D*                                                                                                                                                                                                            Yamaha CP-300 Digital piano